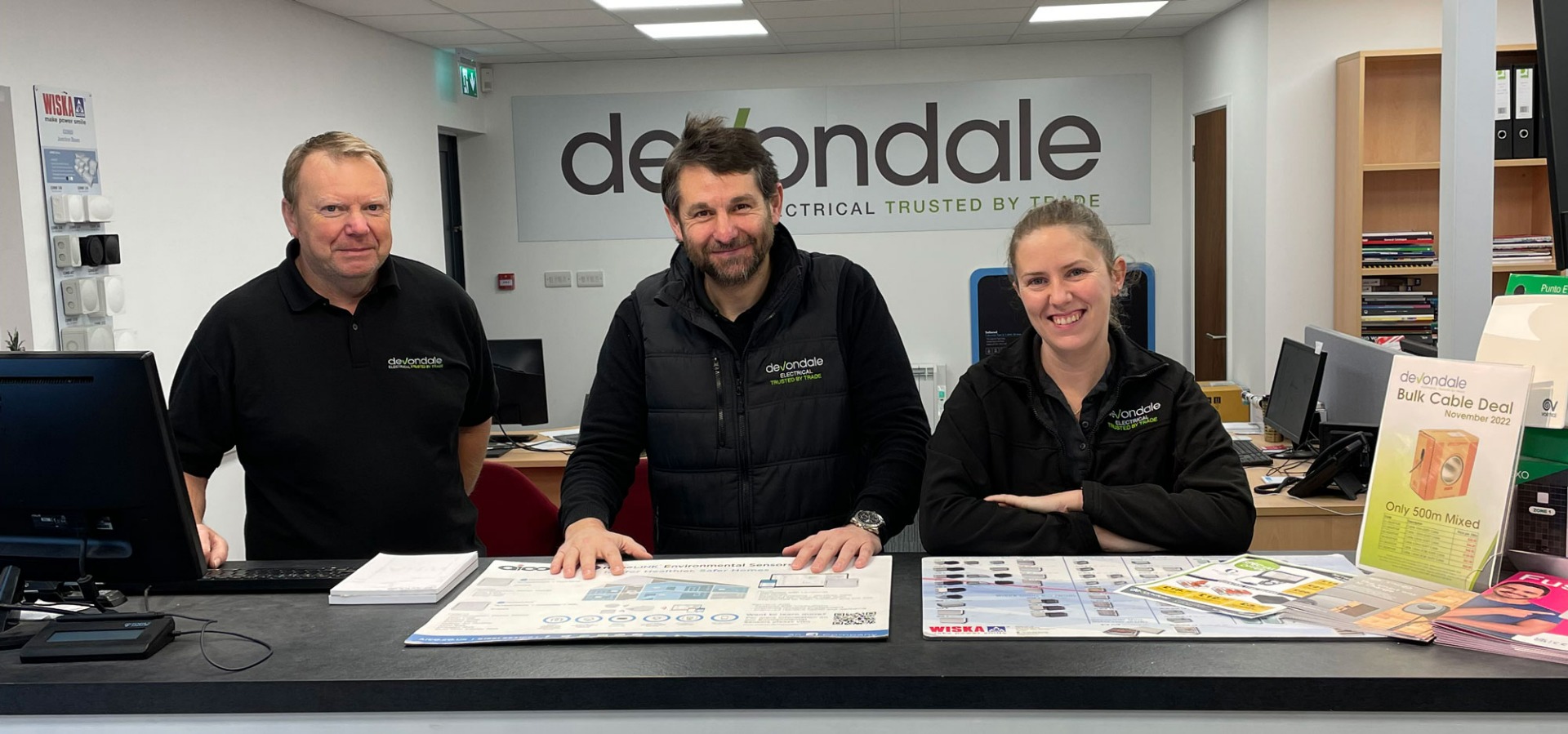 IBMG's electrical division is pleased to announce the opening of its latest Devondale electrical wholesaler in Bude, Cornwall.
The new bespoke site includes a comprehensive stock profile to meet the needs of domestic and commercial electricians operating in a coastal region. The Bude branch increases the divisions geographic reach and further strengthens its position as the largest independent wholesaler in the South West.
Bude will be Devondale's first branch in Cornwall, complementing its existing 11 branch network already operating from Devon to Somerset. Located in Bude-Stratton Business Park, the new branch has been built and designed with customers in mind. Offering a modern trade counter, ample parking, a breakout area for customers to relax on the sofa while enjoying refreshments and even throw some darts. The warehouse stocks an extensive range of products to meet the region's industrial, commercial and residential electrical supplies needs.
Heading the team at Bude is John Bluett who has over 20 years' experience in electrical wholesaling and fully understands the local market. John has been working to ensure the branch, stock ranges and team are ready to meet and exceed the expectations of customers in the area. John is joined by two team members from the Bude area, who have also been trained across the business to deliver the expert customer service that Devondale prides itself on.
Branch Manager John Bluett said: "Our main objective is to make Devondale Bude the best specialist electrical wholesaler in Cornwall, by staying true to our company ethos of supporting local customers in terms of choice, quality and personal service by giving them access to cutting edge and quality products from our suppliers. We also look forward to supporting the local community by getting involved with the local sports teams."
Paul Wood, Managing Director for Devondale, added: "For us, Bude is the ideal location, being an up and coming and increasingly cosmopolitan town, it is still based around a small local community. This aligns perfectly with the core values of Devondale, being able offer industry leading service and products with an emphasis on supporting local business."
The opening of the Bude branch increases the network of IBMG's specialist electrical wholesale branches to 21 across the South of England. Devondale Bude is located at Unit 1-5 Bude Workspace, Bude-Stratton Business Park, Bude, Cornwall, EX23 8LY and will be open six days a week from 7.30am-5.00pm Monday to Friday, 8am to 12pm Saturday.
Customers can look forward to an open day 1 April with exciting special offers, where they'll have the opportunity to see new products in the marketplace and meet representatives from key manufacturers. Customers can contact John or Elanor at Bude branch for further information on 01288714100 and bude@devondale.net.
For further information contact:
Monique Groenewald on 07938 485202 or monique.groenewald@independentbm.com